Yum! Brands & KFC Global Development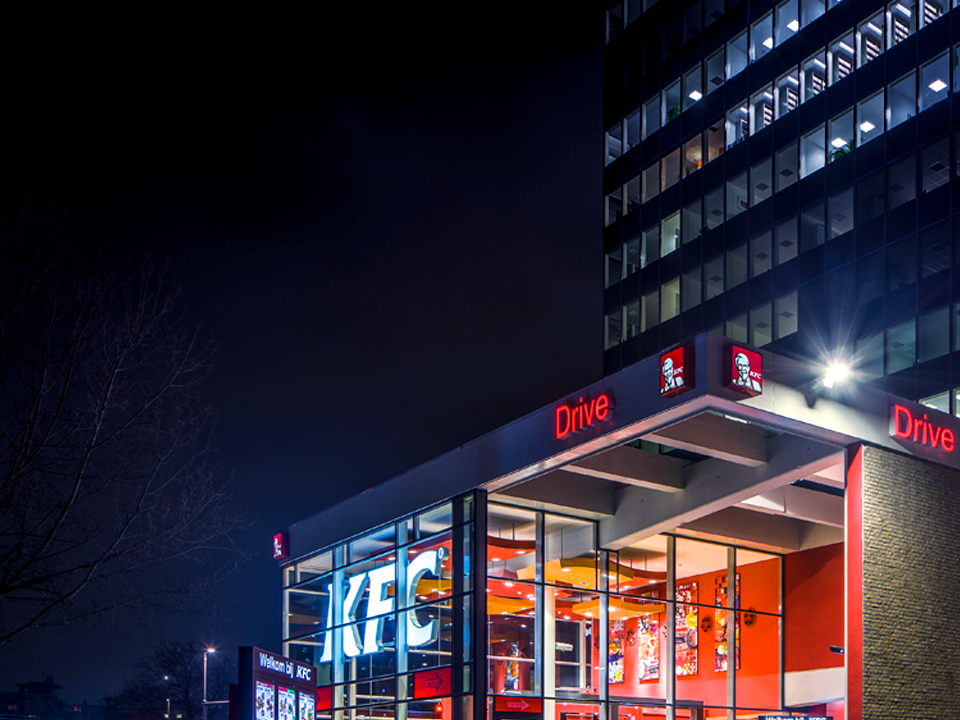 A Compelling Prospect Experience for an Iconic Global Brand
With a new research-based value proposition, improved sales collateral, and the blueprint for a digital sales pipeline, this business development unit inside a Fortune 300 company can now deliver a differentiated sales experience to franchise prospects.
The Client
A global powerhouse with $17BN in system sales, and over 20,000 restaurants in 125 countries, KFC has committed to being the premier quick service restaurant (QSR) franchise since 1952. After three decades of growth from very profitable expansion in Europe and Asia, KFC parent company Yum! Brands turned their focus to increasing their presence in 17 additional worldwide markets. After reviewing the existing strategy and materials in use, the KFC Global Development team decided they needed a new approach. The then-current franchisee recruitment materials didn't meet expectations for an iconic global brand, tell the story of the partnership opportunity, or speak to specific steps in the development process. After a conversation where I shared some ideas on how to improve their online franchise recruitment experience, KFC engaged my firm to design and implement an engaging franchisee prospect experience.[1]
Aligning a Global Team
To understand the problem at hand, our team conducted extensive interviews with several of the KFC international Chief Development Officers, researched QSR industry trends, and we did an analysis of how competitors recruited franchise prospects. We found that the global nature of the KFC Global Development team's reach created several complex challenges that would make a unified strategy hard to produce.
![Global Reach](/content/images/2017/05/yum-portfolio.001.png)
Different Markets, Different Priorities
The 17 Yum! markets are vastly different from each other—some are operating at a sophisticated level built on decades of activity, others are just getting started. In more developed markets, completing large development deals required transitioning existing properties between longtime, seasoned operators. Development teams focused on emerging markets are often creating new footholds in undeveloped areas where opportunity has not been activated or operational talent needs to be identified. These regional differences create significant variation in the steps needed to close deals.
Another challenge in every market was to provide prospects with education about the brand itself. In the emerging markets, prospects needed basic information on the franchise business; in mature markets, experienced QSR investors wanted to learn how to take their operations to a higher level of performance.
Lastly, at the time of our interviews, most markets were making their own sales materials, only sharing basic brand marks. After reviewing samples of these documents, I knew we couldn't try to impose a "one-size-fits-all" strategy due to these differences, but we also needed to create a value narrative that started in the same place even if the end destination would be different in each market. No matter the region, prospective franchise owners needed to understand the KFC story and why an investor should seriously consider the company.
Qualitative Research to Redefine Value Proposition
A major outcome of the discovery process was the clarification of the KFC business proposition to prospective international franchise investors. Pioneers in global franchising with decades of expertise and success, the KFC team needs to make sure sophisticated franchise prospects understand that partnership means buying a proven business model—not restaurants that make a famous fried chicken recipe. This difference between the consumer product and the investor product was very apparent in what we learned about how KFC has adapted their brand and business model for great success in other countries. In short, the combination of local cultural attitudes and beliefs with the KFC proven operational model creates incredible value to the franchise owner.
A second major insight from the interviews was that in multiple markets worldwide, prospects didn't know that Harland Sanders, the eponymous Colonel, was an actual real person. In a competitive landscape where others invented mascots to carry the brand message, the true story of Harland Sanders was far more interesting. As I was reading books about Sanders and KFC during the discovery phase of our project, I learned that __his real life story was fascinating and far more relevant to our prospective investor than the cartoon character who has replaced him in the public consciousness. Our team quickly saw that a common thread across all markets was that prospects needed education on the unique history of KFC—scrappy entrepreneurship, operational innovation, and meaningful collaboration with franchise partners. That is a human story that should be highlighted—the people and places whose innovations have lead KFC to global success.
Built around these two most important ideas, we knew what the starting point would be for new recruitment materials used in all markets—the next question was how to frame that story.
![Proven Model](/content/images/2017/05/yum-portfolio.002.png) ![Sanders Story](/content/images/2017/05/yum-portfolio.003alt.png)
Storytelling to the Sophisticated Buyer
How do you take a brand that consumers know as homegrown and accessible, and completely aim it in the other direction to convey the exclusivity of a partnership opportunity with Yum! Brands? To frame the KFC brand as a lucrative investment, we had to focus on the fact that development staff isn't selling food or even restaurants—they're selling a financial return to select prospects who can make a multi-million dollar, multi-year commitment. One big advantage we had in telling this story is that in international markets, KFC has a very positive brand reputation as a top-shelf, welcoming establishment with fresh, quality food. New physical assets in many existing and emerging markets have been built with this reputation in mind and are striking in their high design and intentional construction.
With all these pieces in place, we started making new design artifacts.
![Assets + Drama 01](/content/images/2017/05/yum-portfolio.004.png) ![Assets + Drama 02](/content/images/2017/05/yum-portfolio.005.png)
Designing and Building a Suite of Sales Tools
In a modern sales process where most things are created and delivered digitally—from pitch decks to documents and contracts—KFC Global Development asked us to start by creating an unexpected physical, tangible object that would re-introduce the brand to international franchise buyers. Working from our own research, market data, and a sizable library of KFC asset images from around the world, we told the new story. After 65 iterations prototyped in five different size formats, our design team and I arrived at a final brand artifact which became the flagship collateral of the new franchise prospect experience. After it was printed and shipped to all 17 global markets, this opening piece became the shared starting point for all development teams worldwide.
![Infographic](/content/images/2017/05/yum-portfolio.006.png) ![](/content/images/2017/05/yum-portfolio.007.png) ![](/content/images/2017/05/yum-portfolio.008.png) ![](/content/images/2017/05/yum-portfolio.009.png) ![](/content/images/2017/05/yum-portfolio.010.png) ![](/content/images/2017/05/yum-portfolio.011.png)
Next, using Nancy Duarte's system of document differentiation, we created a set of sales presentation and whitepaper templates that would help the development teams deliver engaging interactions that convey the value of the KFC partnership proposition.
![Slidedoc](/content/images/2017/05/yum-portfolio.012.png)
Planning for a Digital Pipeline
Originally planned for the first stage of the project, designing a blueprint for the digital version of our new prospect experience became the last step in our process. We helped KFC Global plan for building a new digital sales pipeline by:
Introducing the concept of marketing automation, how it helps development staff track and rank leads, also how sophisticated sales dashboards provide a view to measure prospect progress.

Architecting a new digital services infrastructure that integrates various SaaS services to create a modern, modular prospecting toolset.

Working with Yum! Brands corporate security and information technology teams to protect personally identifying end-user data in a compliant fashion.

We also created mockups and UI experiments to extend the new sales narrative online, continuing the turn away from the KFC consumer and toward the sophisticated investment prospect.
![Digital Strategy](/content/images/2017/05/yum-portfolio.013.png) ![Wireframes](/content/images/2017/05/yum-portfolio.014.png) ![Design Comp 1](/content/images/2017/05/yum-portfolio.015.png) ![Design Comp 2](/content/images/2017/05/yum-portfolio.016.png)
My small team of designers, developers, and researchers, was able to deliver useful insights, unified strategy, and physical and digital artifacts for a Fortune 300 organization by being agile, curious, and collaborative.
---
Sparktivity is more than an agency: they do research, design, and technology. For them, it's all about deep understanding.

-Cathy Tang, Chief New Business Development Officer at Yum! Brands
---
You all are the best Google users I've ever seen. How are you learning all this stuff about us?

-Steve Chalson, Director, Concept Design at Yum! Brands
---
You've taught us things about our company that we didn't know.

-Jason Newhall, Global Business Development at Yum! Brands
---
The KFC Development Global team now has improved sales materials to tell their compelling story as the industry leader in international QSR franchise development, and they're ready to create a similar prospect experience on the web.
---
---
At my firm Sparktivity, Sarah Mason was my co-chair on the project as the lead market and user experience researcher; she and Kate Thompson provided creative strategy, project management, and helped produce earlier drafts of this case study; Nick Jones and Anita Cafiero contributed creative concepts, project management, and design services alongside early concepts from publication designer Marc Harkness; writer Lea Roark provided QSR industry research and historical materials; Bill French provided strategic advice and was a valued sounding board for the team. ↩︎